Gartner just released its first-ever Magic Quadrant report dedicated to Solid-State Arrays, and the accompanying Critical Capabilities Study, recognizing SolidFire not only as a leading "visionary" but also as the number one Solid-State Array for the overall flash use case. Tightly focused on our target markets, it is great to be recognized by Gartner for our understanding of the changing demands placed on enterprise storage and the unparalleled solutions we bring to market to address them.
Over the last year, within the enterprise and service provider markets we have seen two monumental shifts taking place. The obvious one, which has prompted this Gartner Magic Quadrant, is the shift from disk to flash-based storage system designs. By now, just about every storage vendor on the market has staked their claim to a piece of this opportunity with either purpose-built architectures or retrofitted disk-based systems. And with all this activity it is clear that flash has crossed the threshold from niche to mainstream.
For performance-centric applications, it is as cost-effective as disk; and the 15-20x increase in performance is helping enterprises break through their most pressing performance challenges. It will not be long before we witness flash overtake disk as the default medium for primary storage within the data center. Disk won't go away entirely; it will still have a place in the data center for cold storage. But when any level of predictable performance is required, you won't find those applications on disk any longer.
The second shift is deeper, more disruptive, and is occurring within enterprise and service provider data centers worldwide. It has significant impact on data center design and the basis of how IT infrastructure is delivered and consumed, yet it is overlooked by some, and flat-out ignored by most flash vendors in the market today. This is the shift from siloed to shared storage infrastructure, capable of predictably handling a broad mix of enterprise workloads from a single scalable environment. Whether you call it public cloud, private cloud or Infrastructure-as-a-Service, the move to pooled resources is changing how IT resources are delivered to all applications, and it is having an enormous impact on productivity and the ability to innovate across the enterprise.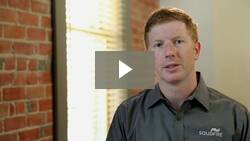 To fully transition to a shared storage infrastructure that is easy to manage and does not lock you into the restrictions of a legacy scale-up design, you need more than flash to get there. This is where the agility of a scale-out architecture and fine-grain Quality of Service control, coupled with the empowerment of self-service automation becomes more important than the media they interact with. This is the SolidFire vision that Gartner recognizes — this is our vision of the Next Generation Data Center.
Today, we enable next generation storage infrastructures within enterprise and service providers across more than 20 countries worldwide. Our close work with the world's top service providers through our Fueled by SolidFire program has enabled more than 26,000 businesses to take advantage of SolidFire's fine-grain performance management and predictability.
For our enterprise customers, we meet today's most pressing application performance demands with deep support for SQL and NoSQL databases, along with validated use cases in server and desktop virtualization. In addition to solving for raw performance, we are setting the stage for customers to move from a siloed to shared storage infrastructure and deliver resources with greater scale, predictability and automation than ever before.
"I've talked about SolidFire many times as I think their architecture is the way forward for dedicated storage in the data centre. They also have a couple of features (Quality of Service and API driven management) that differentiates them from much of the competition out there. As we move to a more Software Defined Data Centre world, storage will need to exist standalone and deliver to service levels, which is exactly what SolidFire does." – Chris Evans, Architecting IT
We are thrilled to see SolidFire recognized by Gartner for our storage vision and ability to drive greater consolidation, automation and scale within the enterprise. And with the most complete enterprise flash array at hand, we are charging forward harder than ever. We are hiring and expanding sales, marketing and support teams across North America, EMEA, Australia, New Zealand, Singapore, Korea and Japan, and are helping customers solve for today's immediate performance issues without locking them into the legacy scale-up architectures from which they are trying to break free.
At SolidFire, our innovation expands far beyond simple raw flash performance, which is why Gartner has recognized SolidFire as the leading Visionary in the Gartner Magic Quadrant.
For a detailed comparative analysis of how SolidFire compares to other all-flash providers, read the Gartner Magic Quadrant for Solid-State Arrays along with its companion document: Critical Capabilities for Solid-State Array.